There's less than
2500 shopping days left until the next reunion!!

We're counting
down to the
50 year reunion!
See just how much
time is left at the
Countdown Timer.
click here!

Have you visited the Guestbook? Click below to see what your classmates are saying.
View Guestbook
Want to say something of your own?
Sign Guestbook
---
Other Things to See
---
Site Map
Home Page
Lost & Found
Old Photos
Reunion News
Memoriam
Class List
D-Ettes
Golden Leaves
Links
About this Site
- N E W -
Navigating this site just got easier! Check the options at the bottom of every page.
W A N T L I S T
We're still in need of at least one Farmington Grade School photo, and maybe others! If you have a grade school photo not on the old photos page, Send us an
E-Mail and tell us what you have!
O B I T U A R Y

Dawn Yasuda Allen,
DHS Class of '73, passed away Friday November 8, 2013

Mark Ostler,
DHS Class of '73, passed away Saturday August 24, 2013

40 Year Reunion
** Memories Archived **
The forty year reunion is now in our rear view mirror, but the faces and places have been captured for later reflection on these good times.... you know... the kodak moments.


DHS then
The reunion was held at Davis High School. No, not the one you remember with linoleum and late night waxing and buffing, but new modernized replacement with carpet, tile and mortar. And a few older, wiser souls, even if just for one evening.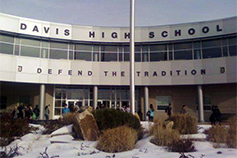 DHS now
Ready to see those Kodak moments? Click the links below.
Click Here for reunion dinner details and photos
Click Here to see golf extravaganza photos
Click Here to learn more about the unauthorized
pre-reunion Cammack gathering
Click Here for a listing of all reunion archives
30 Year Reunion is now in the History Books!!
Wanna see who was at the reunion? Click the links below.
| | |
| --- | --- |
| | Click Here to see and read about the Reunion Dinner |
| | |
| | Click Here to see more about the DHS Tour |
| | |
| | Click Here to learn more about the Reunion Picnic |
| | |
| | Click Here to visit the 11th Annual Golf Extravaganza News |
| | |
Click Here for a listing of all reunion archives
---
The Reunion Committee would like to recognize those individuals who have contributed tips, hints, and other information leading to the arrest and conviction of the...uh.....rather... confirmed phone numbers and addresses of "lost" classmates. The list also recognizes those who have contributed their grade school, or other photographs, to the cause! And finally, to those who have contributed money supporting our reunion activities!
THANKS to those below (in no particular order) for their contributions:
---
| | | |
| --- | --- | --- |
| Patty Bollinger Halaufia | Dick Wright | Brad Wilcox |
| Alyson Evans Brown | Mark Brown | Steven Busby |
| Jeff Fillin | Nola Mitchell Fillin | Dawn Yasuda Allen |
| Allen Crookston | Allen Anderson | Keith Slade |
| Ken Stettler | Brad Timothy | Curt Caldwell |
| Pyper King Stivers | Susan Lundstrom Hamblin | Glenn Whicker |
| Karilene Brough Pack | Clydene Spencer Forbush | Randy Rigby |
| Raymond Roper | Diane Hafen Cluff | Denise Little Hadfield |
| Rex Christensen | Gayle Hill Landeen | Delmont Day |
| Dave Loesch | Carey Smith | Dale Guest |
| Wendy Laser Thueson | Julie Loe Ickes | Eileen Richards DeLeeuw |
| Cristina Pianezzola | Ken & Joni Page | John Burnham |
| Michelle Weaver Jordan | Michael Schoenfeld | Starli Christensen Taft |
| Sheree Millgate Stanger | Loren Berntson | Jacki Beecher Rigby |
We have had so much help with photographs, locating lost classmates, and donations, we've lost track of everyone who has helped!!! Shame on us. If we have omitted your name, please send us a friendly e-mail to remind us!!

Class of '73 Reunion Committee is an Equal Opportunity for Embarrassment Organization