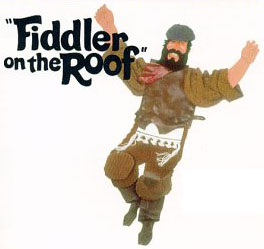 By Mike Moyes Thursday - Feb. 15, 1973

A Fiddler on the roof. Sounds crazy, no? Crazy or not, Davis High's "Fiddler on the Roof" cast and directors are making final preparations for this years production. The opening night performance will be one week from tonight at 7:30 p.m. in the Davis High School auditorium.
Kaysville Junior High students will view the musical in a special performance at 12:30 p.m. next Wednesday. Davis' student body will see the production at the same time the following Friday. The final public performance will be the evening of Saturday Feb. 24, at 7:30 p.m.
Dress rehearsals with props and orchestra began early this week. The cast has been preparing since December. "I would say this is the hardest musical we've put on since I've been here," said Lorri Warren, who plays Golde. "It's got, probably, one of the largest casts," added Ken Stettler, Tevye.