Tears
Thinking of the past
remembering;
Time shared.
Reflections of
happiness.
Thoughts of
love,
Reliving yesterday.
Memories evoke
Endless tears.

Thinking of now
knowing;
I stand
alone.
Separated by
distance;
Yet still sharing
life.
Once more
Unceasing tears.

Thinking of the future
hoping;
For time
together
To share
love again.
Dreams of
then, bring
Everlasting tears.
- Denise Little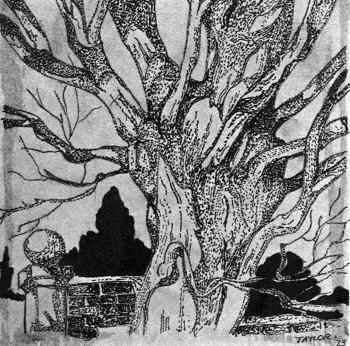 -Gay Taylor
I fear,
And in fear
I am human
And not alone,
The fears
Of each man
Are audible
To my ears now.
The night
Is ev'ry
Personal fear
Of souls combined,
Darkness
Surrounds me -
Intangible,
Yet ominous.
But fear
Becomes man
Only when he
Will overcome.
All must
Do his part
To bring the light of
Understanding.
I must
Overcome
The fog of fear
To see the day.

- Carolie Bean
The Thought's Escape
High walls trap the tireless mind,
and silent falls its laden thought
in ceaseless halls without escape, to find
that calls don't reach its ear,
that it is lost -- when sought.

But yes, with speed some thoughts escape, in time
to flare as glorious flame,
but multitudes more stay encased
within the hall, within the tomb,
for time to tame their haste.
-Mike Moyes